Test-takers forced to disable new MacBook feature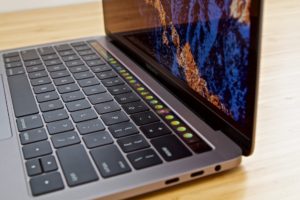 If you are planning on taking your bar exam in North Carolina on your brand new MacBook Pro, you're going to have to adapt your equipment. The North Carolina Board of Law Examiners, discovering, that the touch bar feature on new MacBook Pros gives the potential for cheating, have ordered that examinees disable it before entering the examining area.
ExamSoft, makers of the bar exam testing software, is normally able to block access to websites, files, and apps that might be used for cheating, but this newest feature of the Apple laptops presents a challenge that can only be solved, at least for the time being, with a more hands on-solution.